Musicians and performers will not be paid for their acts this weekend at the Elmwood Village ArtFest.
With limited resources, event organizers have told the more than 30 acts planned for the Saturday and Sunday outdoor festival that there will be no pay for their performances this year.
Performers were paid during the Elmwood Avenue Festival of the Arts, an event that ceased this spring, prompting the nonprofit Elmwood Village Association to step up and carry on the festival.
Elmwood Village ArtFest, the free outdoor festival slated to debut Aug. 26-27, will look substantially different from the two-decade Elmwood Avenue Festival of the Arts that ceased this spring. Here's what to know about the festival. 
But event organizers say this is a completely different festival being run by different people, and this group does not have the money to pay performers this year.
Still, it has at least one musician slated to perform, who asked not to be identified, frustrated with the news, especially since he said event organizers had initially told the acts they would be paid for their festival performances.
The performer said he was also subsequently told that by performing for free this year, they'll be on the priority list in future years when payments may return. But some performers count on the money they receive for their time and efforts at these types of gigs.
"After first telling the musicians that they would be paid for their performance as in the past, the festival is now telling the musicians that they have to play for free this year in order to get in line for a paid performance spot next year," he wrote in an email.
Therese Deutschlander, owner of Thin Ice and president of the Elmwood Village Association's board of directors, said Sunday that event organizers were under the impression that the acts were "happy to play for free" and all understood that this is an inaugural event being put on by a nonprofit organization.
"There is no money just waiting to be spent," Deutschlander wrote in an email. "Quite the opposite, with nonprofits."
"In the future, we would love to pay the performers but that is not in the cards for year one of, I would think, any festival," she continued.
The Elmwood Village ArtFest is going to look substantially different in variety of ways from the two-decade-long Elmwood Avenue Festival of the Arts.
Cichocki and Deutschlander have emphasized there's no affiliation between the previous and new event, and that's evident in the approach.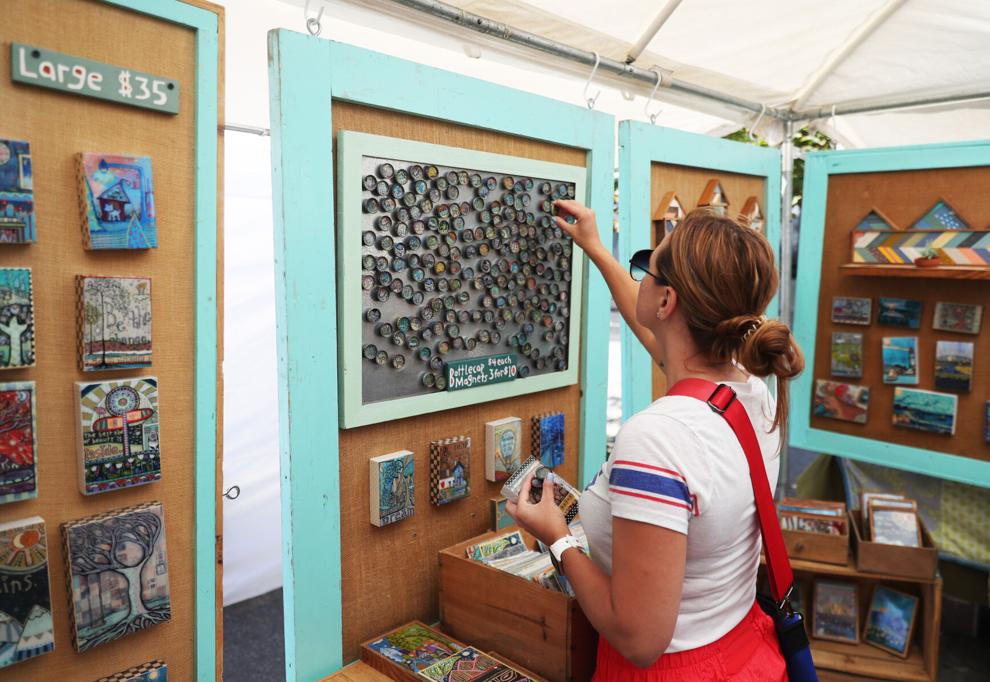 The Elmwood Village Association announced Wednesday its board of directors voted to take on production of the festival, which will be held Aug. 26 and 27.
Still, they've said they're confident they can pull off a major event, even with just four months of preparation.
"We've run Porchfest for years," James Cichocki, executive director of the Elmwood Village Association, said in a prior interview about the free event in which musicians perform on porches throughout the neighborhood. "We've had thousands of people without incident."
Bidwell Parkway at Elmwood and Potomac, essentially in the heart of the festival, will be the entertainment hub. Cichocki previously said spoken word performances will be interspersed between scheduled music and dance acts.
In total, there will be 16 acts starting from 11 a.m. to 7:30 p.m. Saturday. A new performer will take the stage about every 45 minutes to an hour with short spoken word performances thrown in, as well as a late afternoon hot dog eating contest.
Starting from 11 a.m. through 6 p.m. Sunday, there will be 15 acts about every 45 minutes to an hour, again including short spoken word performances.